September 14, 2015
Drain Line Replacement. We are nearing the end of work in the units of the 05-stack in Tower 2. Our schedule calls for prep work to start on the Tower 1, 06-stack of units on September 24. After this stack is complete, we plan to start work on the Tower 2 13-stack on January 13, 2016.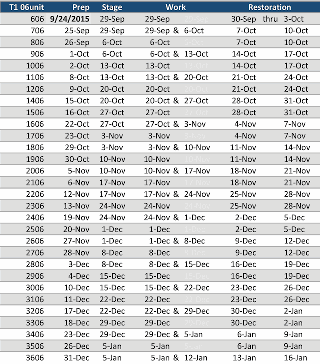 Tower 1, 06 stack
The main drains in the end-units are located between the kitchen and bathroom and are accessible from either side, although the bathroom side presents fewer problems due to the configuration of couplings, sweeps and vents. When Maintenance inspects the units in the 13- and 14-stacks, they will evaluate each unit and decide from which side they will do the work: kitchen or bathroom.
As has been the case in the previous stacks we've worked on, we will inform owners if the condition of your unit drain lines requires their replacement, as well as notify you if we observe any other conditions needing attention.