April 8, 2016
Pool Maintenance. Last year we did major work on the deck surrounding the swimming pool. This led to a revision of our drain line replacement schedule.
I thought we would not need to close the pool for maintenance this year, but Maintenance has informed me that we need to do some work on the pool's coping stones. This will require us to close the pool for a week.
We plan to close the pool from May 9 to May 14. The pool work will not affect the drain line schedule; we expect to start work on the Tower 1, 13-stack of units on May 5.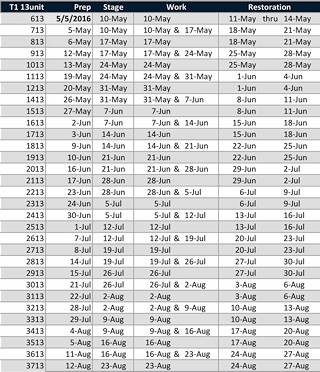 Drain Line Replacement. We are nearly finished with the Tower 2, 13-stack drain line replacement. After the T2 13-stack is finished, we will move to the 13-stack in Tower 1.
In addition to the unit drain lines, we are replacing sections of laundry room drains. These drain lines, especially in Tower 1, are subject to blockage from the volume of water discharged by our washing machines. We are adding cleanouts as we work on these pipes, which will make maintenance easier and should allow us to keep the lines clear without having to replace them frequently.
Board Officers. At the recent regular meeting of our Board of Directors, Mike McGuire stepped down from the office of President. Elected as President was former Vice-President Bob Ivanoff.
The Board elected former Treasurer Kini Olegario to be Vice-President, and Lorimegan Black was elected Treasurer.