April 20, 2015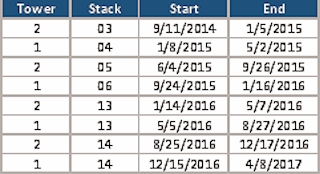 Drain Line Replacement: Schedule Change. A combination of circumstances has led us to change the drain line replacement schedule. We are extending the break between the T1 04-stack and the T2 05-stack from four to six weeks, which in turn will affect the dates of work on subsequent stacks. The accompanying chart shows the revised schedule for the elevator and end unit pipe replacement.
The extended time will allow us to address potentially severe spalling on the pool deck as well as replace the blocked drain line for the Tower 1 laundry rooms. We plan on closing the pool area from May 11 to June 6.
Monthly and Long-term Parking Rates. The Board recently voted to increase the rates for monthly parking to $180 per calendar month and long-term parking to $180 per 30 day period, effective June 1, 2015.
Monthly parking is sold by the calendar month, one month at a time, and is not pro-rated. Monthly parking requires a vehicle to be in operating condition and bear current registration and safety inspection certification. Most people using paid monthly parking are not residents of Waikiki Banyan.
Long-term parking generally applies to any vehicle that is parked unattended for over seven days and requires that vehicle to be registered with the Admin Office. This form of parking is used primarily by owners and tenants leaving their vehicles at Waikiki Banyan for extended periods of up to a year. Paid long-term parking may not be used in lieu of monthly parking.
Limited Common Elements A condominium such as Waikiki Banyan is characterized by having private units, common elements and limited common elements. The boundaries between private units and common elements are generally fairly clear, usually comprised of the walls, floors and ceilings that demarcate each unit. More exactly, the interior finished surfaces of your walls, floor and ceiling belong to the unit and the structural concrete elements under those surfaces are parts of the building that serve more than one unit, hence are common elements.
Any fixture that lies outside the boundaries of a unit but that serves only that single unit, such as your unit's drain lines, is a limited common element since it is both partially outside the unit and it serves no other unit. Maintenance and repair of limited common elements is the responsibility of individual owners. This is why the Association is replacing the common element main drain lines that each serve an entire stack of units, while individual owners are responsible for replacing or repairing the drain lines that serve specific units, even when those drain lines penetrate the concrete floor slab and can only be accessed from the unit below.
As the building ages I expect more limited common elements to need repair or replacement, such as the main electrical lines that run from each floor panel to every unit on a floor. Both the circuit breaker for an individual apartment and the wiring and conduit running to that apartment are limited common elements. Should any of those electrical elements fail, as has recently happened, their repair or replacement is the responsibility of individual unit owners.