July 2, 2014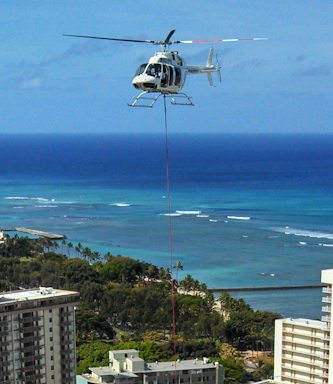 Tower 1 Heat Pumps. Despite strong winds, the helicopter lift went well and all three new heat pumps were carried to the rooftop. Honeywell has been working to install the new pumps, bringing them online as they go in order to make a smooth transition from the old heat pumps.
Waikiki Banyan Maintenance is removing the old heat pumps, dismantling them and lowering them piece by piece down the stairwell.
Transient Accommodations Reporting. The first form we published for reporting transient accommodations information to the Association was based on the best information then available, prior to the state Department of Taxation's establishment of its online reporting page.
Now that we've used the state's online page, we have revised our reporting form to correspond with the sequence and information required by the state. This form is now available through the tile to the right. Please use this revised form for any future reporting you may need to do.
Please note that the state requires you to report to us any changes in the status of your unit as transient accommodation within 60 days of that change. In turn, we are required to report that information to the state.
Exterior Repair. The project is nearing completion, with Raymond's workers now addressing the garage supporting columns. Some of these columns have serious concrete damage due to spalling, but the majority seem to be sound, needing only repainting. When the damaged columns have been repaired, we plan to revise the rec deck pool area drainage, as that seems to be related to the spalled concrete we've observed.