March 5, 2015
2015 Annual Meeting. Mahalo to all owners who attended the Annual Meeting in person or by proxy. Thanks to your response we achieved a quorum and were able to conduct the Association's business.
This year was unusual in that we had five open positions on the Board of Directors. The three seats of incumbent Directors Mike McGuire, Shraga Dachner and Kini Olegario were open to election. Karl Springman, a long-serving Director and former Board President, declined to run, and, I'm sad to say, new Director Wayne Bennett passed away.
Your 2015 Board of Directors, their offices and terms are:
| | | |
| --- | --- | --- |
| Mike McGuire | President | 2018 |
| Dick Eide | Vice-President | 2016 |
| Kini Olegario | Treasurer | 2018 |
| Kenji Iwasa | Secretary | 2016 |
| Shraga Dachner | Director | 2017 |
| Bob Ivanoff | Director | 2018 |
| Doris Palmer | Director | 2017 |
| Lou Palmer | Director | 2017 |
| John Wong | Director | 2016 |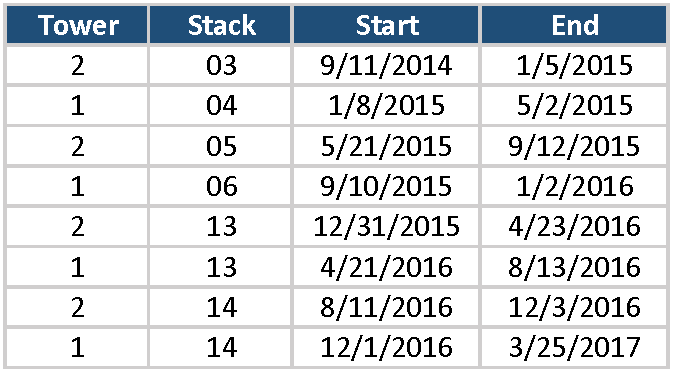 elevator & end units
Drain Line Replacement. Since September of last year we have been working on those stacks of units that require us to work entirely within each apartment. These stacks include the units that wrap around the elevators or "elevator units" and the 13- and 14-stacks or "end units" in each tower. Once those stacks are complete we'll return to finish the stacks that are serviced by two drain lines to replace the sanitary drains.
In the elevator unit stacks, the drain lines are located behind the toilet so work must be done in each unit's bathroom. The end units are slightly different, with the drain lines located in the wall between the kitchen and bathroom. Our inspection has led us to believe that the best and least disruptive approach will be to work through the kitchens of these units rather than through the bathrooms.
As a general rule, we start working at the bottom of each main drain line, since that is where corrosion and damage are the worst and the pipe is at its largest diameter. The job gets relatively easier as work continues up the stack towards the rooftops.