September 19, 2014
Revised Schedule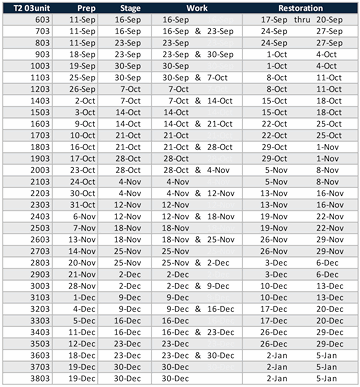 Drain Line Replacement. Maintenance has started on the Tower 2 03-stack of units. As expected, the work is going more slowly than that in previous stacks. Prep work must be done entirely within each unit's bathroom, and there is room for only two men to work. To maintain functionality, we are removing and replacing the toilet after prep, when the drain line is replaced and during restoration work as necessary.
Beyond the difficulty of working in this environment, we must ensure that no water comes down the drain line while it's open. The only way we can do this is to visit each room in the stack after water has been shut off. Our staff will flush toilets and ensure that large volumes of water are not being stored. We understand that you may need small quantities of water for drinking and cooking so we will not remove all water from your unit.
It is very important that no water be put down any drain in your unit. This includes kitchen sinks, vanity sink, toilet and bathtub; all these drains connect with the main line that is being replaced. Any water that comes down while the drain is open will slow down the work and may delay the project.
We have revised the work schedule based on our initial experience. While we will try and follow this schedule, please be aware that it may change.