August 27, 2014
Drain Line Replacement. Next week we should finish the drain line replacement for the Tower 1 08-stack of units. Next will be the first of the most difficult stacks to work in, the Tower 2 03-stack.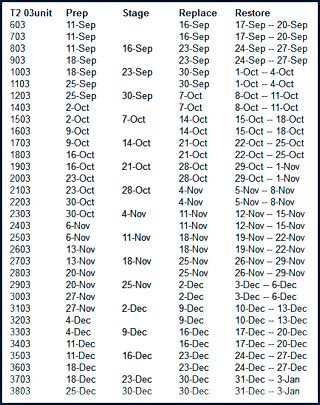 Prep work is scheduled to begin on units 603, 703 and 803 in Tower 2 on Thursday, September 11, with the first drain line replacement scheduled for units 603 and 703 the following Tuesday, 9/16. Restoration work in 603 and 703 will start on Wednesday, 9/17, and should take about three days. Prep work on units 903 and 1003 will start on 9/18, and work will continue to follow this pattern for the entire stack.
As the accompanying table shows, we expect to be able to replace the drain lines for two floors a week. Since we must replace pipe from the floor above the unit being replaced, we will be working on three floors a week. In the table, the column labeled "Stage" indicates work being done from a unit for the unit below; for instance, work will be done in 803 on 9/16 to replace the drain in 703. The line in 803 will be replaced the following week from 903, and so on.
Preparation work consists of removing the toilet to cut open the wall that covers the drain line, then tacking the cut-out section of drywall back and replacing the toilet. When the old line is replaced Maintenance will again remove the toilet, do the replacement, then replace the toilet. Maintenance will take care to protect your unit from the inevitable drywall dust with drop cloths and plastic sheets.
The table is more detailed than the earlier table we published, but is still preliminary. We will refine it as Maintenance gets a clearer idea of how much progress they can make each week; we'll know more after we do the first two units.