December 22, 2014
Maintenance Fee Increase. At the special Board meeting on Friday, 12/19/14, the Board of Directors approved the budget for 2015. In order to fund the replacement of our emergency fire panels, the budget includes a maintenance fee increase, effective February 1, 2015, from $400 to $460 a month.
This is a significant increase that is driven by several factors: the recent building spall repair project went over-budget; the fire emergency panels apparently can't be routinely repaired and must be replaced; we are required by Hawai'i Revised Statutes to maintain a 20-year fully-funded reserve plan.
Annual Meeting Notice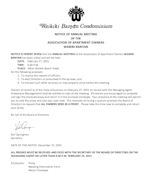 2015 Annual Meeting. The 2015 Annual Meeting of the Association is scheduled for Friday, February 27, at the Hilton Waikiki Beach Hotel, with sign in starting at 6:30pm. The Hilton Waikiki Beach is directly across Ohua Avenue from the Banyan.
We must have a quorum to have an Annual Meeting; if we do not have sufficient proxies to constitute a quorum for the scheduled 2/27/15 meeting, then we will have to adjourn the meeting and reconvene at a later date, thereby incurring additional expenses. Please return your proxy to us as soon as you can.
Drain Line Replacement. We are nearing completion of the Tower 2 03-stack and work is proceeding on schedule. Barring any major unforeseen events, we expect to start work on the Tower 1 04-stack of units on January 8, with prep work in 604-1 and 704-1. We project the entire 04-1 stack will take us through April.
As has been the case on the 03-2 stack, we will inform owners if Maintenance discovers any problems with a unit's drain lines or toilet flanges. Actual drain line replacement and necessary water shut offs will continue to be on Tuesdays.