October 24, 2014
Garage Spalling and the Rec Deck. The top floor of the garage is the recreation deck, made up of post-tensioned concrete slabs. The seams between slabs are not visible on the rec deck as they are covered by a surface coating, then elastomeric and paint coats. From the garage we can see the bottom of the slabs and the seams between them.
Damaged Slabs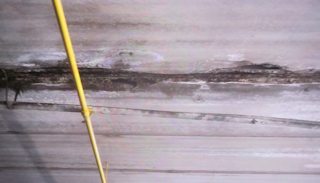 Over the years water has penetrated the concrete slabs at the seams and caused significant rebar corrosion, in turn leading to spalled concrete. Further, the post-tension cables at the edges of the slabs have been exposed and corroded as the ducts they were in have suffered disintegration over the years.
Recently, large concrete pieces fell from the damaged slabs. This is an obvious safety hazard. After cleaning up the fallen concrete, our Maintenance crew set up a scaffold and removed any loose concrete they could find. We plan on repairing and replacing the corroded rebar and concrete, but that alone does not address the source of the problem.
The worst damage is along a seam that happens to be under the planter that forms the mauka wall of the swimming pool area on the rec deck. The second seam that is badly damaged is next to the planter. We need to reseal these seams on the rec deck before we repair the damage to the slabs in the garage.
Fallen Concrete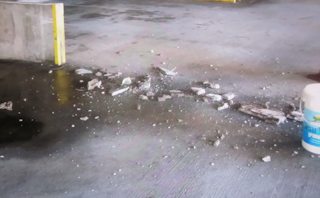 To that end we will be cutting back the hedges in the planter, then removing them carefully in order to minimize damage and reuse them when the project is done. Next, we will remove all the earth in the planters so we can access the top of the seam and apply a commercial-grade sealant that should prevent further water damage for years to come. Once the seal is done, we'll replace the earth and plants.
We regret the inconvenience this project will cause; we plan to close off a portion of the rec deck to hold the earth we remove, and access to the pool and spas will be limited to the ewa-side gate.
Drain Line Replacement. Work is proceeding on the Tower 2 03 stack according to schedule. So far we have been able to access all units.
Please remember that if we find modifications to the wall of your unit's bathroom where we have to replace the drain line, we will replace the wall only to the original as-built specs; that is, we will replace the drywall and paint only.
As Maintenance does the work, they are finding a few instances of damaged unit plumbing components, such as corroded toilet flanges. Replacing the commode would lead inevitably to a water leak into the unit below. To prevent this happening, I have told Maintenance to inform the unit owner and agent of the damage and not to replace fixtures and finish restoration until the damage has been repaired by the owner or agent.